In 1212 King John signed a charter allowing York's citizens to collect and pay the annual tax to the Crown themselves and to hold their own courts to appoint a mayor.  Next year York 800 celebrates this with a year-long programme of events for residents and visitors to enjoy.

Kersten England, Chief Executive of City of York Council, has an obvious passion for history which started in her early years: the daughter of a lecturer in architecture, she grew up in Edinburgh, studied in Chester and holds a degree in historical anthropology.
It is against this background of familiarity with historic towns that Kersten lives and breathes the heritage of the City of York, and finds this a constant factor in decision making. 
Kersten describes York as "a proud and independent place which likes to be in charge of its own affairs", and one which is facing up to the challenge of cuts. The City Council maintains an archaeologist and a strong heritage team and although there has been an overall decline in planning applications a recent upturn in the last couple of months has added some pressure to the department.  This intensifies the enormous economic pressure York is already under to remove a quarter of base funding across the Council.  Rather than spread cuts across every function, the City Council is redesigning and reconfiguring all their services and is currently conducting numerous reviews. They are talking to neighbouring local authorities to find out where they can collaborate and share aspects of the planning function. 
The City Council, which until now has been housed in 15 different historic buildings, is moving to a more functional new building on the site of North East Railway (NER). Here it will benefit from back office savings, lower property costs and collaborative working as well as bringing down the Council's carbon footprint.
Archaeological research is a fundamental part of any development taking place in an historic town or city, and York has yielded many important finds.  "Here are sedimentary layers of history dating back 2000 years which are still being uncovered [and] provide new excitement nearly every month, be it a gladiators graveyard, a silk cap from the Chinese silk route or an ancient toilet!" Kersten divulged.
In the development of the NER site many archaeological remains have been found, and as Kersten describes, it is as if "a golden thread of history can be seen moving from Roman times to the railway era and then right up to the 21st century local government provision of public services".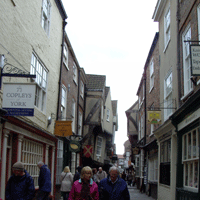 The economy of the city is fortunate to have two dominant drivers centred on its history. Firstly there is the visitor and leisure economy which sees 7 million visitors each year and to which 200,000 jobs are directly and indirectly linked. And secondly there is the knowledge economy, underpinned by four FE/HE institutions: York College, Askham Bryan College, York St John University and the University of York.
The University of York has a strong commitment to academic research and is well placed to interpret the heritage of the City.  In addition the City is home to many important archives including the Minster archive and the Borthwick Institute, which has been awarded funds by HLF.
Conserving and promoting the heritage of York sits within these economic drivers, and the City of York strives to achieve the proper balance between development and conservation, an issue which has been highlighted in recent debate over the National Planning Policy Framework (NPPF) and the Localism Bill.
With the imminent passing of the Localism Bill and the push for more engagement with communities, York has a head start as "working with community groups and partnerships is part of DNA of York. There is a high level of civic activity and involvement, including participatory budgeting and allocation of moneys at neighbourhood level."
Engagement with communities builds on existing strong networks, established by the Quakers' Rowntree Corporation and mutualism of the 19th century, and encompasses all dimensions of place, background and race: the demographic includes communities of interest, the voluntary sector and the church.
York was one of the first authorities to take on the process of asset transfer of community buildings, along with the particular issues associated with listed buildings, that many such transfers involve.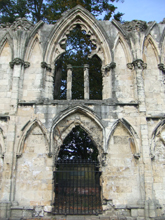 Having recently submitted their Core Strategy and a strong response to the National Planning Policy Framework consultation, Kersten considers the conundrum facing a Government which is "committed to economic growth but also committed to neighbourhoods being in charge of their own affairs".  Kersten's view is that these don't always fit together and Government is struggling to find the right balance at which strategic responsibility for a place should be held. The current economic climate "is like a state of emergency. We don't have enough provision of housing supply and though we have stock sites that could be brought into use, if we also want to let locals have a real interest in what happens in their locality there are sure to be tensions, and then who arbitrates?" Kersten sees it is an extraordinarily difficult thing for the Government to resolve and they don't yet have the answers.
Independent research to find how the whole city can be taken forward to secure economic growth, while maintaining what is special about York, is underway, led by The Fairness Commission with the Archbishop of York, Yorkshire Forward, Joseph Rowntree Foundation, University of York and Aviva. Results should be available in April 2012.
Although the LEPs do not have a remit over planning, the Leeds City Region LEP in which York sits looks at social, transport and housing planning as these are critical areas of responsibility.  More forceful discussion, which had taken place within the Regional Spatial Strategy, seems only just starting again at the community level.
Kersten has confidence in the support of the many active and skilled citizens, civic trusts and guilds who have the City's heritage at heart, and also in the Councillors of York, whom she feels have taken on their responsibility as guardians of the social fabric.  Together they will endeavour to get the balance of growth and conservation right, with as little tension as possible.
Helen Johnson
HTF Marketing & Communications
November 2011
Talk with the Chief articles:
Geoff Rivers, St Edmundsbury Borough Council
Contact us to have your CEO featured in a Talk with the Chief